Online Master of Infrastructure Planning & Management
Completing a Master's Degree While Serving Around the Globe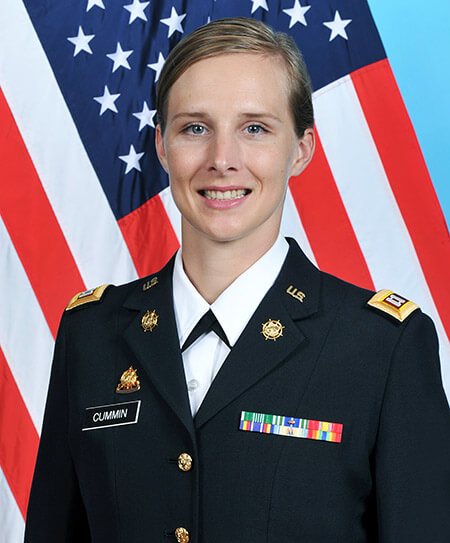 Alyssa Cummin
Transportation Officer, U.S. Army Reserves
Captain Alyssa Cummin knew that getting a master's degree would give her an edge in her career. She learned about and completed the UW Online Master of Infrastructure Planning & Management while serving around the globe as a transportation officer in the U.S. Army Reserves.
"I honestly recommend the University of Washington to anyone who's looking to get their master's online," said Alyssa.
Learn how Alyssa was able to balance her courses with military service, training for triathlons and volunteering, and how this program put her on a path to success.
Can you tell us why you went into transportation?
I went into transportation and logistics because it's interesting and translates well into the civilian workforce. I enjoy planning and going on convoys. When everything is going great, you're nearly invisible. When there's a problem, you're in the spotlight. It's high stakes and high rewards.
Why did you choose to do the MIPM program?
I did this program under a grant for those in service to study infrastructure cybersecurity and completed the master's degree along with the UW Certificate in Cybersecurity. I was especially happy to do this program online because I was deployed in different time zones.
Where were you deployed during the program?
I was deployed in Germany, then Estonia and Latvia. I stayed Latvia for a while and then visited Poland and Lithuania. I took two quarters off and then resumed the program from Italy. During that time, I visited six different African countries: Nigeria, Tunisia, Morocco, Djibouti, Somalia and Malawi. I finished my last quarter in Pittsburgh.
That's quite a journey! How did you handle this program while being deployed?
I wasn't the only student who was deployed out of state. There was a program manager who helped us stay on track. Most teachers worked with me when I had to travel for a couple weeks for my job. I'm grateful to all the faculty in this program at the University of Washington. I could not have done it without them.
What were your favorite aspects of the program?
The program's video lectures, discussions and readings were cohesive. I liked the formal classroom setting and I enjoyed the video lectures. I learned a lot from the discussions because my peers were smart and shared their different work experiences. I also appreciated the readings and being able to do them on my own time.
I heard your capstone was about your experience working in Africa. Could you tell us a bit about it?
I coordinated U.S. military trainings in Africa. I worked on details such as what the trainings would be like, where soldiers would stay and security. My capstone project was titled, "Multinational Peace Building in the Western and Eastern Regions of Africa Through Logistics and Capability Improvements." I looked at U.S. partnerships with African governments and how African national security was strengthened by protecting their transportation infrastructure and improving their logistics capabilities.
I think it's so great to be able to tie in your coursework with your job. Could you tell us something else that you learned in the program that you use in your day-to-day?
The lessons from Strategic Planning & Policy Analysis course reappeared throughout the program. In my work, we do a lot of strategic planning through SWOT analysis, which stands for Strengths, Weaknesses, Opportunities and Threats.
How has the MIPM program helped you with the next step of your career?
I'm on short term orders with the U.S. Army Reserves and am exploring opportunities on the civilian side. I am looking at positions involving project management, strategy, planning and supply chain. Being in the military really prepares you for a role in project management. A master's degree makes you more competitive.
I heard that you balanced other extracurricular activities on top of your military service and this program. What activities were you involved in and how did you balance it all?
While in German and Italy, I coached a high school swim team. When I was in Italy, I also began training for triathlons and eventually completed three half Ironman Triathlons and one full Ironman Triathlon. I am still training and plan to compete in individual biking, swimming and running races in addition to triathlons later this year.
If you're going to do your master's degree online, find a routine that works for you. I had to dramatically change my daily habits. I would wake up early to do my homework because I realized I worked best in the morning. You can do it, but you must make the time, because that time is not going to manifest itself.