Online Master of Infrastructure Planning & Management
Broadening Her Horizons and Advancing Her Career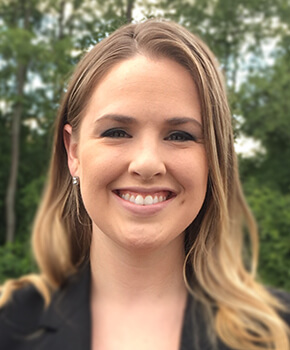 Ashley Meschke
Quality Systems Analyst, Consumers Energy
Ashley Meschke wanted to deepen her expertise in emergency management, particularly with regard to how different infrastructure sectors become more resilient before and after emergencies. She discovered that the MIPM program was a great way to accomplish this goal. "The MIPM program provided a great framework for better understanding how critical infrastructure sectors operate and interconnect, and how we can keep them resilient from all hazards," she said.
Here, Ashley discusses how the MIPM program put her on a path for career advancement.
Can you tell us a bit about your current job?
I work for Consumers Energy, the nation's fourth-largest combination utility, which provides electricity and natural gas to 6.7 million residents in Michigan. I recently took a new position as a quality systems analyst. Before that, I was the emergency management coordinator. A lot of people get into emergency management and stay within that field, but for me it's been a great opportunity to understand the utility industry, apply my skills and knowledge and then take it to a new level in my career and company.
Did earning the Master of Infrastructure Planning & Management help you advance in your career?
Yes. I definitely gained a lot of knowledge through the program and had the opportunity to apply that knowledge directly to my work. I was promoted in the spring of 2015 from an emergency manager to the emergency management coordinator for the company, and I think that the knowledge and skills that I learned at the University of Washington definitely put me in a great position to manage the program in a way that was consistent with industry standards and best practices.
Why did you decide to earn an advanced degree?
Professional and academic development is very important to me, and I knew that getting my master's was something I needed to do for my own growth. I wanted to stay close to the security and emergency management field while at the same time broadening my horizons in critical infrastructure. The MIPM program provided a great framework for better understanding how critical infrastructure sectors operate and interconnect, and how we can keep them resilient from all hazards.
What else did you gain from the MIPM program?
I became a much stronger writer while completing my master's — the faculty really challenged me to become a better writer through setting high expectations and providing tangible feedback on assignments. I think that's very important, not only from an educational perspective, but also from a professional perspective. It was huge in my career, since so much of my job requires professional writing skills. I'm also thinking about going back to school for an MBA. The master's program at UW definitely prepared me for continued education in the future.
What was the online learning experience like for you?
I was a little hesitant about the online format because I really value making connections in person and having the ability to discuss various topics in real time. I was pleasantly surprised with how much value I got in terms of making connections from the program. All of our instructors were very good about making sure that we were interacting through online posts, responding to other people and doing group assignments and group projects. I got to work with some of my classmates in more of a real-time setting on group projects regardless of their time zone.
Tell us more about the connections you made in the program.
I really got to know all of the people that were a part of my cohort and their areas of subject matter expertise. If I had any questions regarding nuclear energy systems or cybersecurity, I knew that I had one person to go to who was an industry subject matter expert. It was definitely a great opportunity to make those connections and maintain relationships in this field.
Even though I participated in the program electronically from Michigan, I felt like I had good working relationships with the students in the program. The first time I met my cohort was during graduation, and at that point it was putting names to faces. We also have a Facebook group page where we all keep in touch and talk about current events and issues in critical infrastructure.
We heard you ended up recruiting a member of your class to your company?
Yes. We posted a job for the business continuity program, and I encouraged students from the various MIPM cohorts to apply. One student who applied for the position was ultimately hired due to his experience and educational background. I am absolutely thrilled to have him on board.
What did the instructors bring to the master's program?
The professors had real-world experience that was highly valuable. They could share real-life experience that was relatable to the students and helped us understand specific concepts and principles.
One of the instructors completely changed the way I thought about business continuity. He was looking at it from an all-hazards perspective, which is not necessarily something that many business continuity professionals consider when building and managing business continuity programs. This helped me when I was developing and implementing a framework to integrate business continuity and emergency response.
What would you say to someone who's thinking about earning this degree?
Don't be intimidated by the online learning environment. I got so much value in the online setting. The instructors were very creative in the different ways that they presented content to us and how they required us to engage with each other. It was a great opportunity not only to learn from the instructors, but also to network with and learn from other students in the program, who have very diverse backgrounds and experiences.